Are you tired of missing out on valuable Hipages leads because you can't respond quickly enough? You're not alone. Many businesses face this challenge, and it's time to explore why it's a problem and how to solve it.
Why Can't You Accept Hipages Leads?
Limited Availability: Hipages leads can come in 24/7, but you can't be online all the time. Being unavailable to receive leads can hinder your success.
Manual Effort: Some businesses employ people full-time just to click "accept" and monitor emails. This manual approach is time-consuming and costly.
Worksite Constraints: When you're on the tools, sitting in front of a PC isn't an option. Traditional methods don't align with your working conditions.
Slow Internet: An unreliable internet connection can cost you leads. A slow connection can result in delayed responses and missed opportunities.
Fastest Finger First: Hipages works on a "first come, first served" basis, and being in the top three is crucial. This system often leaves you behind if you can't act quickly.
The Consequences of Missing Leads
Losing Hipages leads can be detrimental to your business. It means missed opportunities and slower growth. If you can't tap into this source of leads, you're falling behind your competition.
Presenting the Solution – Hipages Managed Account Service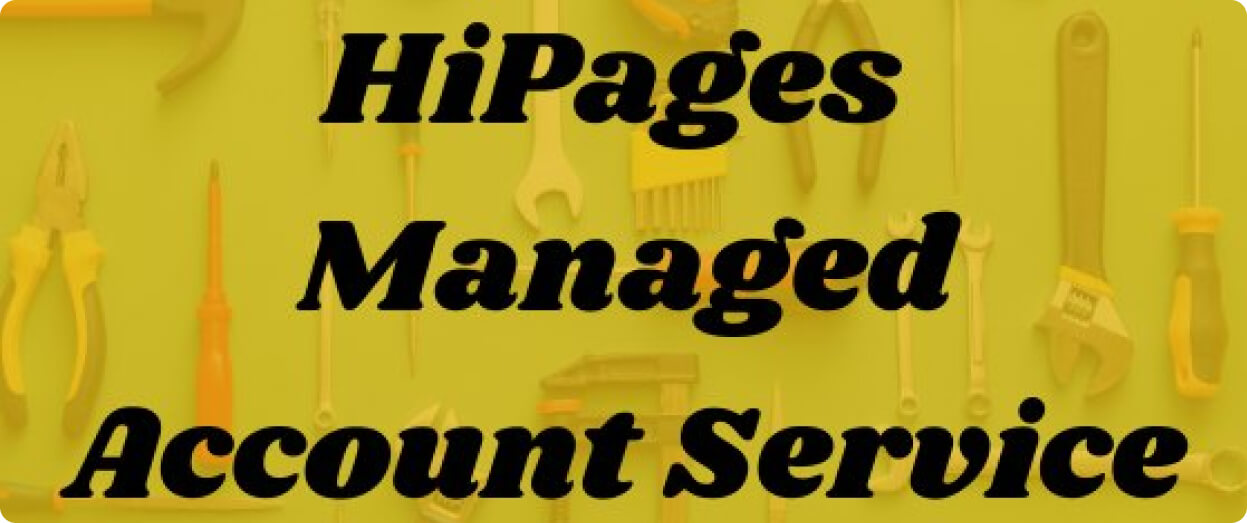 This is a service where we manage your HiPages account and accept leads on your behalf.  Contact us for more information on the same.
Lightning Speed: Our managed account service ensures rapid lead response, giving you an edge over the competition. Quick response times increase your chances of securing jobs.
Precision Targeting: We focus on your ideal leads, saving you time and effort. With our service, you can select which leads to accept, ensuring you invest your resources wisely.
No Missed Opportunities: Say goodbye to leads buried in email notifications. Our system ensures that every lead is acknowledged promptly.
24/7 Availability: Our tools work round-the-clock, even when you can't. This guarantees you never miss a lead, regardless of the time of day.
Reduced Workload: Spend less time waiting and more time quoting and winning jobs. Our service streamlines the lead acceptance process, allowing you to focus on your core tasks.
Data Insights: Analyze which leads are most profitable and concentrate on them while ignoring the rest. Data-driven decision-making empowers you to maximize your success.
Enhanced ROI: Maximize your profits by converting leads efficiently. By improving your lead conversion rate, you increase your return on investment.
With our solution, you can stop missing out on Hipages leads and start growing your business. Don't let these opportunities slip through your fingers – seize them with our Hipages Managed Account Service. It's time to make your business thrive!
Contact us from the form below to get started.
Hari Iyer
CEO
Hari Iyer is the Founder and CEO of SyncEzy, a pioneering company at the forefront of data integration and automation solutions. With a deep understanding of the power of technology and a passion for solving complex business challenges, Hari has emerged as a visionary leader in the industry. Under his guidance, SyncEzy has gained widespread recognition for its deep integration solutions that seamlessly connect software applications, eliminate data silos, and enhance operational efficiency.
Hari's relentless pursuit of excellence and his commitment to delivering tangible results have earned SyncEzy a loyal global clientele. He is not only a successful entrepreneur but also an active contributor to the technology community, sharing his insights through thought leadership articles, speaking engagements, and mentorship programs. Hari's ability to navigate the complexities of remote work serves as an inspiration for leaders, highlighting the importance of flexibility, work-life balance, and a results-oriented approach in today's evolving work landscape.
When not working Hari is trying to be a better father, and reading Tech news, playing FPS games and not exercising as he should.
Today marks a significant milestone for SyncEzy (3D Consulting Pty Ltd Trading as SyncEzy), as we proudly announce our achievement of the CASA Tier 2 (Lab Tested - Lab Verified) accreditation. This esteemed recognition is a testament to our steadfast commitment to...